DGQ honoured for 65 years of EOQ membership
In 1956, DGQ was one of the founding members of the European Organization for Quality (EOQ). The EOQ is an association of 28 national quality societies. The goal of this non-profit organisation is to promote the concept of quality in Europe.
The DGQ's certification department hands out numerous EOQ certificates every year. The benefit of an EOQ certificate is that it is also recognised by member organisations in other European countries. It guarantees that the training and certification of quality and management professionals in Europe is carried out according to comparable criteria and standards.
As a national partner organisation, DGQ participates in the strategic and structural development as well as the conception of EOQ certification program for personal certification bodies. DGQ is regularly represented on the board. In 2020, Claudia Welker, Managing Director of DGQ, was elected to the board.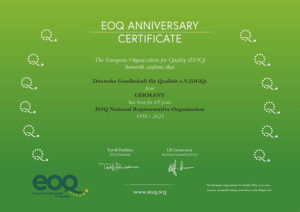 Having focused on the organisation of congresses enbabling international exchange, honouring of outstanding "Quality Leaders" from Europe and encouraging international harmonisation of the certification of quality and management professionals for many years, the EOQ is currently intensifying and expanding its offerings.
For example, it has modernised its website and transformed it into an information and collaboration platform. In addition, new offers for quality professionals have been created for training providers and certification bodies. Regular representation of interests in ISO and CASCO committees ensures influence on standards and legislative processes. DGQ, represented by Thomas Votsmeier, acts as the EOQ representative in committees such as ISO TC 176, CASCO, IPC and EA.
A new EOQ blog informs about events from the Quality World of the member countries.
DGQ was honoured for its 65 years of membership at the EOQ General Assembly on 23rd June 2021.
New Secretary General of the European Organization of Quality appointed
On June 16th, Ulf Gustavsson has been appointed the new Secretary General of the European Organization of Quality (EOQ). The Swede prevailed against almost 300 competitors and can look back on more than 25 years of experience in quality management. The magazine Quality World has now published an interview with him. He talks about his experiences in the industry so far, his motivation and the future of EOQ and quality management.
The entire interview can be found on the Website of EOQ.
EOQ Annual Report available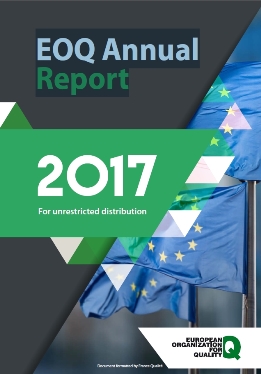 The European Organization for Quality (EOQ) is an autonomous, non-profit making association under Belgian law. In the field of international cooperation one focus of the DGQ activities is the support of the strategic development of the EOQ.
Now the organization has published its annual report 2017. It contains information about the activities and cooperations of the EOQ. Furthermore, it is giving a good overview of EOQ's projects in 2017.
Click here to view the EOQ Annual Report